T H E B L A C K K N I G H T B O W B E N D E R S
Proudly present the 18th Annual
BIGFOOT OPEN
JULY 14th & 15th 2012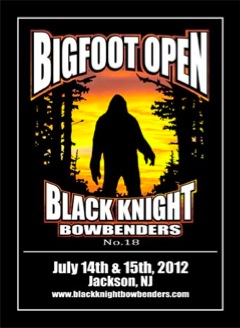 Open to all Shooters - 14 Field, 14 Hunter and 30 Reinhart 3-D Targets
(at unknown distances) -
Both 3-D and Dot ranges open both days.

SHOOT FOR FUN, AWARDS OR CASH
The BIGFOOT OPEN is for anyone who owns a bow and wants to have a good time.


Don't miss the New "Top Gun" 3-D / Dot Shoot off Saturday at 2:30 PM
Don't miss the Traditional "LAST MAN STANDING" on Sunday at 11:30AM
Don't miss the one & only BIG FOOT SKINS GAME Sunday at 2PM Sharp

* We do not have an accurate tally on Prizes and cash at this time!

Kitchen Open Daily from 8AM to 2PM with even better Menu
Camping – 20 Primitive Campsites Available for tents & pop-ups. No Fee – No Open Fires
Call Bob Helle at 732-961-6834 to reserve a site!

Registration - 7:00 – 10:00 AM
Dots $10 each day
3-D $15 each day
Shoot both Dots & 3-D for $ 20 each day

ARCHERY / SPORTING GOODS SWAP MEET!

Turn your old bows, arrows, releases, or any other kind of sporting goods into CASH or SWAP them for even more neat stuff to clutter your garage and workbench. The "Swap Meet" part of Bigfoot has gotten to be one of the neatest parts of the shoot with all kinds of sporting goods sold over two days. No Fee! Just set up a table or open the bed of your truck!


Casual or Multiple Registration
Shoot only 3-D or only Dots or shoot both. Shoot for Score or Just for Fun. Shoot 3-D one day and Dots the other.

For you 3-D Shooters - once again in 2011 - TOP GUN 3-D / Dot "Shoot Off " for Big Prizes
For you Traditional Folks shoot in the unique "Last Man Standing" only at Bigfoot!
For you Dot Shooters Our Skins Game will pit the best of the best against each other for Big Cash & Prizes.

Our main goal is have a FUN SOCIAL SHOOT so plan plenty of time to just relax and enjoy yourself!


Many folks shoot for "Fun" and never even turn in a score card—but if you want a little "Pressure" and a chance at some "Big" prizes check out these "Games" below. If you are a Dot shooter, a 3-D shooter or a Traditional Archer we have something for YOU!

"TOP GUN" WILL BE FULL OF SURPRISES — SATURDAY AT 2:30 PM

This unique competition will pit Dot Archers and 3-D Archers against each other in a very cool "Shoot Off". Can Dot Shooters guess yardage on unmarked 3-D Targets?
Can 3-D Shooters slam the dot on a Field Target? Lets find out!

The rules are simple! RANGEFINDERS NOT PERMITTED!
On Saturday Morning Dot shooters will shoot a Field / Hunter Round. 3-D Shooters will shoot their normal 3-D round. If you register for Dots or 3-D you are automatically in the game.
The 6 Highest scoring Dot Shooters and the 6 Highest scoring 3-D shooters will have a SHOOT OFF on Saturday at 2:30 PM. Properly signed score cards must be in by 2:00PM We will have a $20 buy in if you qualify, 100% of which goes in the pot.
All qualifiers will SHOOT OFF at both Field Targets and 3-D targets at the Practice Range for
Prizes & Gift Certificates (Prizes not determined as of this date)
The combined scores at the Shoot Off will determine the winners.
(Prizes not determined as of this date)
Complete Scorecards, signed by a minimum of two witnesses must be turned in by 2:00 PM.
There are no classes, no styles – The highest scores get in. The top shooters will win!

THE AMAZING "BIGFOOT SKINS GAME" — SUNDAY 2PM (See Separate Rules)
The "Skins Game" is the cornerstone event at "Bigfoot". This is an intense exhibition round where the weekends top 8 Dot Shooters will shoot 3 arrows each at 8 Field Targets for $ (to be determined) per target in Cash - or Gift Certificates. The Skins format means that if there is a tie on a target, no one wins that target and the prize is added in full to the next target doubling the value. Talk About Pressure! (ALL Prizes indicated on this flyer are based on projections of donations from sponsors and the values may be less)

THE "LAST MAN STANDING" TRADITIONAL SHOOT OFF — SUNDAY AT 11:30 (See Separate Rules)
If you are a Traditional Shooter this game is for you. Watch or participate in this exciting elimination round where finger shooters with recurve or Longbows struggle to be Last Man Standing. Great prizes include CASH a beautiful custom knife compliments of TANJ, and lots of surprises and other prizes from TANJ.

SHOOT RULES OTHER THAN TOP GUN or SKINS
Casual registration, but try and start by 10AM if you are going to turn in a score card.
Medals will go to First Place Winners in all NFAA styles in both 3-D and Target
Only your highest score counts. If you shoot both days we toss out your lowest score. All NFAA rules apply. We need to see two signatures from other shooters on your target to win.


Questions or Directions? Gene Grodzki 732-462-2278