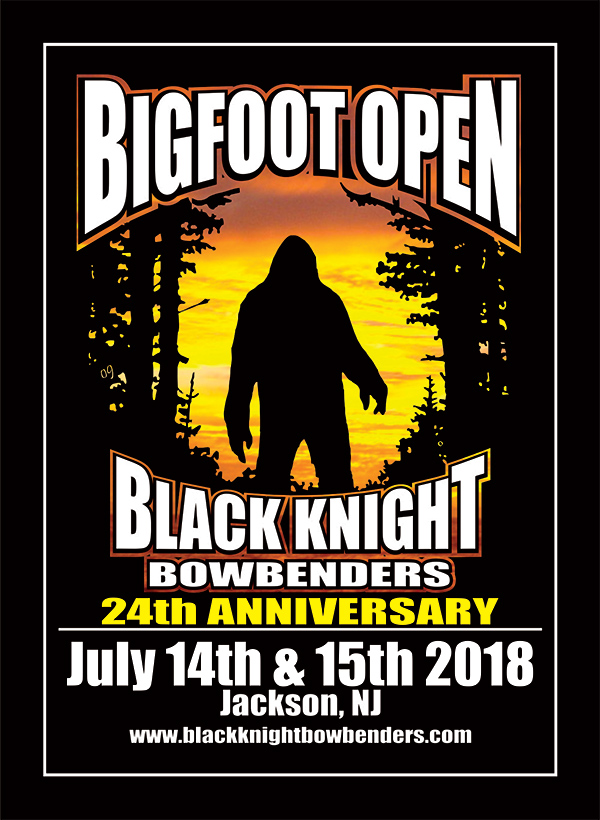 "Open to Anyone with a Bow from Amateur to PRO!"
Sat & Sun, July 14 & 15, 2018
Over the past 24 years BIGFOOT has evolved into the most unique archery event in NJ, where 3-D, Dot & Traditional archers from all over come to shoot, socialize, and enjoy our challenging BKB ranges. To eliminate backups, we will have separate ranges for Compound, Traditional and Dots.
There is something for everybody at BIGFOOT!
Do you shoot dots well enough to get into the Skins Game? Top Gun is a wild head to head shoot-out between the best Dot & best 3-D shooters. TANJ will honor and award the Traditional shooter who is the Last Man Standing.
Turn in a scorecard or just shoot for fun — It's up to you!
As in years past, we hope to have some great Door Prizes, Surprises, Cash Awards & Gift Certificates.
Swap Meet: Buy, Sell or Swap – Cool Stuff at great prices.
Camping: It's limited, but FREE. Call to reserve a spot….
Casual Registration! Great Food! Tons of Fun!
Vendors Welcome! Sponsors Appreciated!
| | | |
| --- | --- | --- |
| "TOP GUN" | 3-D vs. Dot "Shoot Off" | Sat at 2:30PM |
| "LAST MAN STANDING" | (Traditional) | Sun at 11:30AM |
| "SKINS GAME" | Can YOU make the cut? | Sun at 2:00PM |
Continue Reading